Taking risks, knowing your worth, and never giving up are three markers of a woman who will accomplish incredible feats in her career. Two fearless leaders on Greenrock's Executive Team are living proof of this testament: Barbara Rodgers, Chief Executive Officer, and Gloria Mogavero, Officer of Administration.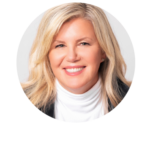 Barbara has over 20 years of progressive leadership and operational management experience with many of Canada's leading real estate owners and developers, including Skyline Group of Companies, Riocan REIT, Cadillac Fairview, and her role as President and co-founder of Arcturus Realty Corporation.
Gloria was the former CEO of Greenrock from 2010-2021 and has 45 years of experience in the real estate industry. Prior to joining Greenrock, she served as the Alliance Director of CB Richard Ellis as Operations Manager for a 3 million square foot commercial portfolio for the Bank of Nova Scotia, which included Scotia Plaza. Previously, Gloria was the Executive Vice-President of Greenwin Property Management Inc.
Both Executives have experienced their fair share of discrimination and unfair treatment in the early years of their career, which took a tremendous amount of perseverance to overcome. In honour of International Women's Day on March 8th, Barbara and Gloria share invaluable lessons about recognizing and overcoming bias and standing up for what they deserve.
What inspired you to get into the real estate/property management industry?
B: I wish I could say that there was some inspirational moment, event, or leader that spurred my interest in the real estate industry, but the truth is that I had completed my business degree and launched my career in the trade show and conference industry and was unsure where my next opportunity might lie. I had the great fortune to be introduced to the then-President of Cadillac Fairview, Peter Sharpe, who shared that they were launching a Management Training program, which led to an offer to join the program. My experience in that training program opened the door to managing shopping centres for Cadillac Fairview and all of the opportunities that followed.
G: I was working as a student accountant for a Chartered Accountant (CA) firm and was assigned mostly real estate clients. I enjoyed the variety of accounting challenges that came with preparing financial statements for real estate owners. I left the CA program to work as a Controller for a client who owned office buildings. I have remained in the real estate industry throughout my 45-year career.
Have you faced any bias or challenges being a woman throughout your career?
B: Many. A primary example that comes to mind occurred while I was managing a shopping centre and discovered that I was expecting my second child. It caused a ripple through the management team as there was no plan for how to deal with a manager being on maternity leave. I felt that my commitment to the company was questioned, and that I was causing a problem. Not long after returning from that maternity leave, I left the company and industry (for several years), but then was recruited to return to that role a few years later to cover a former colleague's maternity leave. Times had started to change!
Another experience of a different nature occurred years later. I was in a senior operational role with a major client portfolio. The client service lead left and a new lead was to be appointed. My colleague, a man who was leading the leasing team, was approached to take on the role but declined as he had also decided to depart. I was then approached (finally!) and was aware of the compensation that had been offered to my male colleague. The offer to me was substantially less. I knew that I was the better candidate for the role and was determined to be compensated at the same level that had been offered to my male colleague – and I was. It was an invaluable learning experience for me.
G: Unfortunately starting my career in the late 70's I experienced a great deal of bias and inappropriate behaviour. One of my first experiences was as a student accountant going to a real estate developer who promptly called the senior partner at my firm to say, "You sent a woman", to which the partner replied, 'Yes". The client then said, "Women can't be accountants, they are not logical".
When I joined a real estate developer as Controller, I would have contractors and financial institutions asking to speak to my boss instead of dealing with me. Over the years I was the only woman at a boardroom table and, in the early days, I was expected to serve coffee, take minutes, and clean up even though there was other staff to do so.
Inappropriate behaviour by male bosses or clients was a challenge for young women throughout the 80's and 90's. I made it clear that I was not going to accept any disrespect because I was female.
What is one piece of advice you would share with your younger self if you could?
B: Take risks, listen, learn. Put your hand up. Ask questions, don't be afraid of what you don't know or that others will find out what you don't know. You can do this. Stand up for yourself and others.
G: I would tell my younger self to have a better sense of humour and to not let the bias harden me so that I wouldn't share anything personal so as not to appear weak.
What successes/accomplishments are you most proud of in your career to date?
B: I am proud of my success at working hard, building my career through successive roles that led to me becoming President of Arcturus. I asked for the role, which led to my appointment – something I'm certain that I would not have been brave enough to do early in my career. After positioning our company for acquisition, and closing the deal, I decided to walk away. That was a difficult decision and yet I knew it was right for me – and I have never regretted it.
During my tenure there, we built and reinforced an overwhelmingly positive culture. We were unique in the industry. Third party property management is a tough business, but everyone in the company knew that they were valued, that we heard their voices and how they contributed to our success. At our senior management level, there were twelve people sitting at the table – 6 women and 6 men. We were exceptionally proud of the success of women in our organization. One of those six women decided to leave the company as we were going through the sale process. Years later, she shared with me that she wished she'd valued our culture and how we treated each other (the entire team, over 500 people) more and that she knew now that it was unlikely she'd have that experience again. That was such a meaningful moment for me and a strong incentive to continue applying these practices with future teams.
G: My first accomplishment of which I was proud was when I reached a salary level of $100,000 which only 2% of women made in Canada at the time. I have had many accomplishments. One is the repositioning of Postmedia Place and the subsequent awards it has won from BOMA. To win the National Earth Award in 2021 out of all the office buildings in Canada was something for which the Greenrock team and our partner could be very proud. My proudest achievement is when Greenrock won the first FRPO Company Culture Award of Excellence in 2019. It was always my dream to be part of a company who valued excellence in service to its clients, residents, tenants and staff. As CEO of Greenrock in 2019, this award demonstrated we had succeeded.

What makes you feel most empowered about being a woman in the industry?
B: Looking back, I am appreciative of having been provided opportunities to grow and become a leader, to be in a position to now, in turn, provide growth opportunities to my female colleagues. I find it empowering to increasingly be surrounded by a cohort that looks very different than it did a few decades ago. I'm proud of our collective achievements.
G: I am most empowered because there are now many women leaders in the industry and at meeting tables. Attending industry conferences now are more women and the conferences are finally featuring women panelists and chairs.
Do you have a female role model that has inspired you within or outside the industry?
B: I don't – and wish I'd had that as I moved through my career. It's crucial that top executives within the industry place considerable effort into being role models and mentors, actively working to remove access to barriers and biases, and cultivating positive environments where our colleagues and those new to the industry can succeed.
G: Throughout my career I did not have many women colleagues in Executive roles. Over the last fifteen years I had met many and value networking with them. I have been most inspired by Beverleigh Aquilanti, a coach and consultant to public, private, large, and small companies. She has helped me become a better leader and has given me confidence to open up and share more of myself with my colleagues. Her counsel is always measured. She is very wise, and I am grateful to know her.
What is one way you are supporting the #BreakTheBias movement in your own life/career?
B: My hope is to make a difference by employing a practice that acknowledges bias, then conscientiously works against it. I work at challenging myself to identify any biases that I may have – and look to work beyond them. Through educating myself and taking in full stride any advice or lessons I receive, I am better able to help develop those who are now actively seeking to grow within the industry. I strive to be a receptive and supportive leader; I want anyone who is struggling with barriers to feel that they have an ally.
G: In my professional career, I have always tried to ensure that women are paid the same as men in similar roles and are given the opportunities for challenging tasks and promotion if they wish. In my personal life, together with my husband, I have raised a son who has great respect for women and who is a true partner in his marriage. I have tried to lead by example.
---
Greenrock's Break the Bias pledge: We are committed to offering mentorship and leadership opportunities that empower women and align them for success, creating a positive company culture that is inclusive and embraces diversity.