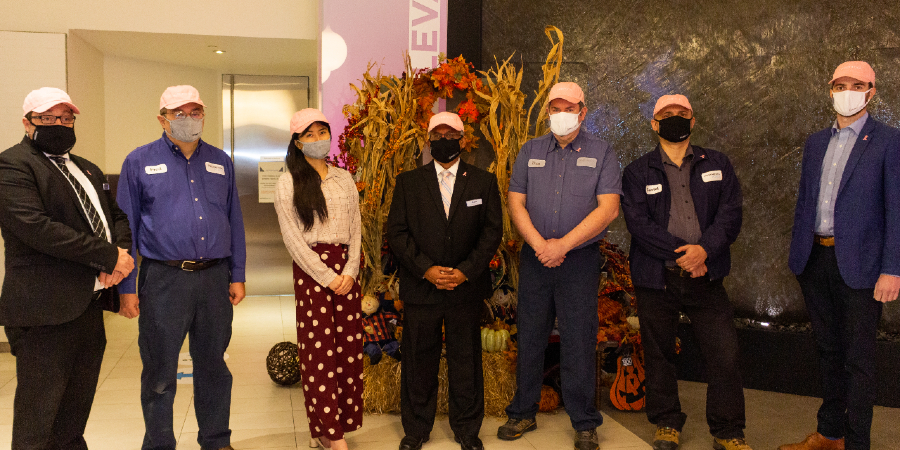 TORONTO, October 26, 2021 – Postmedia Place is being celebrated amongst the greenest commercial properties in the country after winning a BOMA Canada National Earth Award in the office category. The victory was announced at the BOMEX Virtual National Awards Reception & Gala on Thursday.
BOMA Canada's National Earth Award recognizes excellence in resource preservation and environmentally sound commercial building management. Postmedia Place advanced to the national level after achieving a BOMA BEST Platinum Certification score of 96.1%, the highest in the GTA's 250,000 – 499,999 ft2 office category, which resulted in the building winning the BOMA Toronto Earth Award earlier in June of this year.
"This is a tremendous achievement that speaks volumes about the performance of our Greenrock Commercial Services team. Thank you BOMA Canada for this prestigious recognition," says Barbara Rodgers, Greenrock CEO.
Greenrock Commercial Services is actively working to minimize its carbon footprint by implementing energy-reduction strategies and measuring annual energy and water performance. Greenrock is a proud partner of the City of Toronto's Green Will Initiative, which invites building owners across the city to accelerate the reduction of greenhouse gas emissions.
"We also want to thank Shiplake for the great deal of time and resources their team has spent working with us to make Postmedia Place the impressive asset it is today," says Justin Taylor, Greenrock COO.
A rigorous application process is required to compete at the national level, including documentation and written submissions for each of the following sections: Building Description, Executive Summary, Competition Photographs, Award Ceremony Photograph, Reduction of Environmental Risk, Indoor Air Quality/Green Cleaning, Recycling, Energy Conservation, Water Conservation, Interior Finish, Green Purchasing Policy, Occupant Communication/Education, Community Impact, and Case Study.
Postmedia Place is now invited to apply for the BOMA International TOBY® Awards where it could compete against the most environmentally conscious office spaces in the world. To learn more about Postmedia Place's commitment to sustainability, visit https://www.postmediaplace.com/sustainability.  
XXX
About Postmedia Place: Postmedia Place is a luxury office and retail complex conveniently situated in downtown Toronto at 365 Bloor Street East with 20 floors and over 300,000 square feet of space. The anchor tenant is Postmedia Network.
About Greenrock Commercial Services: Greenrock has over 60 years of operating experience in managing prominent commercial buildings across Toronto, specializing in creating innovative, cost-effective, and environmentally sound operating strategies that cater to each client's needs.
For Media Enquiries: Please email Greenrock's Communications & Social Media Manager, Sarah Cowan, at scowan@greenrockreal.ca