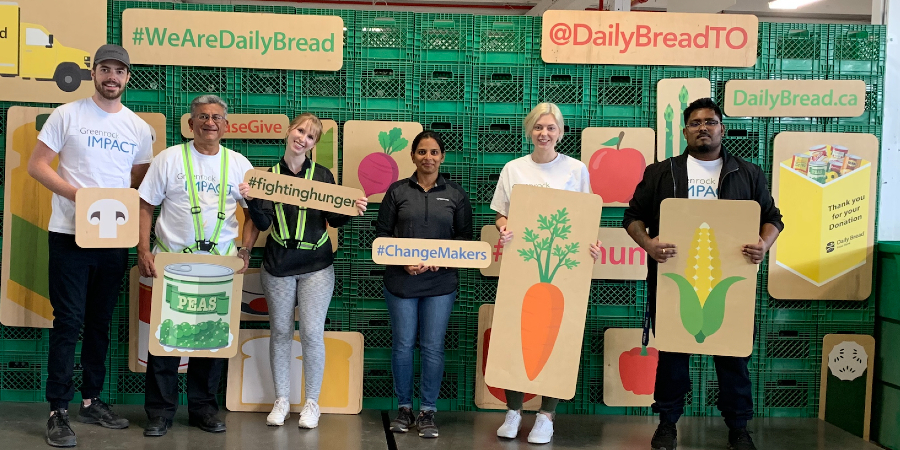 TORONTO, January 4, 2023 – Greenrock is proud to announce that our residents and tenants have selected Food Banks, Shelters/Emergency Housing, and Mental Health as the most meaningful causes, resulting in their award of over $100,000 through the Greenrock Charitable Trust this winter.
The 2022 Greenrock IMPACT Resident and Tenant Donation recipients are Covenant House, Haven Toronto, Distress Centres of Greater Toronto, Progress Place, Daily Bread Food Bank, and Second Harvest.
The Greenrock IMPACT Resident and Tenant Donation is an annual program launched in 2018 that directly engages those living and working in Greenrock buildings in the selection of causes and charities most in need of support. Greenrock's IMPACT Committee collaborated with its Executive Team and Board of Directors to nominate the recipients. All selected charities are registered, local, non-political, and non-religious as required by the funding criteria.
"Greenrock's holiday donation program is a tradition we proudly support, made possible by the thoughtful input of our community-minded residents and tenants," says Barbara Rodgers, Greenrock's Chief Executive Officer. "We thank everyone who invested their time in consideration of all of these worthy charities."
To date, a total of $630,000 has been donated to local charities through the Greenrock IMPACT Resident and Tenant Donation program since its inception.
To learn more about Greenrock IMPACT, visit www.greenrockreal.ca/impact/
XXX
About Greenrock IMPACT: The mission of Greenrock IMPACT is to build stronger, healthier, and environmentally sustainable communities while celebrating cultural diversity and promoting human rights across Canada through a variety of annual initiatives, volunteer programs, and donations.
About Greenrock: As a third-generation family business dedicated to delivering an exceptional client experience, Greenrock provides expert asset and property management services, property repositioning, sustainability, development, investment management, and Family Office Services.
For Media Enquiries: Please email Greenrock's Communications & Social Media Manager, Sarah Cowan, at scowan@greenrockreal.ca